Pearl , changes beautifully gently
Scarce calcium and minerals to modern people
Please help us to " liquid pearl " to be well-balanced supply.
---
Liquid pearls , conchiolin and nacre of pearl ( pearl calcium ) and fermented with special bacteria , is a good pearl mineral fermentation liquid absorption that was ionized.
Within that ionized material will be excreted from the body without being absorbed also comprise how active ingredient.
Liquid pearl is a pearl that poorly absorbed was liquefied by the special production method "ionized pearl".
Calcium minerals are ionized, without placing a burden on the body, it is easily absorbed efficiently in the body.
Mineral supplementation seasoning
Liquid pearls , because it is included in a state in which the calcium is dissolved in water is ionized , you can free access to food of the cell.
Since the order in the interior of the food water is at the same time the surface also coat and easily absorbed , increases the water retention of food.
In other words, you can change greatly the state of the food.
In various situations of life
You can use the secret ingredient of every meal of food because it is a mineral supplement seasoning , ionized mineral water , and calcium supplementation , helps very tail in life.
---
"Liquid pearl" Parka Le bridge Extra
Basic component (in 100g)
< Mineral >
Calcium 2.76g
Magnesium 316mg
Sodium 188mg
Potassium 7.0mg
Iron 1.89mg
Copper 18μg
Zinc 397μg
Manganese 177μg
< Nutrients >
Energy 22kal
Protein 0.1g
Lipid 0.3g
Carbohydrate 4.7g
Sodium 188mg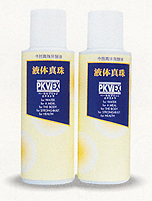 ●Name:Pearl fermented mineral liquid seasoning (seasoning)
●Raw materials:Pearl powder , starch , non-reducing disaccharide and aging mineral salt
●Preservative:18 months unopened from the date of manufacture. Please keep equally in the cold and dark room and seasoning.
※After opening should be stored in the refrigerator, please use within 6 months.
How to Use a liquid pearl, question, document request here