Greetings of representative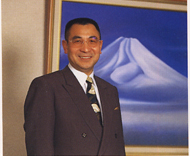 I am from Uwajima, Ehime Prefecture. When the 23-year-old, began working at his uncle pearl company, and was established now Kei Pearl in 1975 after 12 years.
It involved a pearl You are about to become soon in '50.
And each other Tour of the pearl, mutual Tour of the wonderful people, and I learned a lot of things.
Creed is that you cherish the credit, people, and edge.
My job is to nurture people. Pull out the potential of each employee, business by leaving the work also has expanded steadily.
"Carefree growth and breakthrough in the corporate culture!" Is the mission statement.
Even in life, even in management
Cornerstone is,

Company Profile
Company Name
Imakei Pearl Co., Ltd.
Representative
President & CEO Keisuke Imai
Establishment
July 1, 1975
Capital
30,000,000 yen
Number of employees
21 people
Location – Contact
Headquarters: Kobe, Hyogo Prefecture, Chuo-ku, Yamamotodori 2-chome, No. 6 No. 15 Pearl Building TEL: 078-242-3399 (algebraic) FAX: 078-242-3928 Showroom: Kobe, Hyogo Prefecture, Chuo-ku, Yamamotodori 2-chome, No. 6 15 No. Pearl building

IMAKEI PEARL (HONG KONG) LIMITED

Suite 1509 Peninsula Square, 18 Sung On Street, Hunghom, Kowloon, Hong Kong

TEL:852-2312-7399 FAX:852-2312-1411 E-mail:mihara@imakei-hk.com

URL
https://www.imakei-pearl.co.jp
MAIL
kobe@imakei-pearl.co.jp
Member organizations
Japan Pearl Export and Processing Cooperative association, Japan Pearl Exporters' Association, PCK Promotion Council, Ehime Prefecture Federation of Fisheries Cooperative Associations, Kobe Pearl reunion, Zenshinren
Business
Processing, wholesale and export of pearl
Access map
<iframe "width="800″ height="600″ frameborder="0″ allowfullscreen="allowfullscreen" src="http://maps.google.co.jp/maps?f=q&hl=en-us&q=34.697434, 135.188288&t=m&om=0&ie=UTF8&oe=UTF8&ll=34.697434, 135.188288&z=17&output=embed">